OVERVIEW
Located at the very center of Tokyo, Tokyo Dome Hotel is an ideal base for business, leisure and sightseeing.
Close to some of Tokyo's most historic neighborhoods, the hotel is also ten minutes away by car or subway from the business and financial districts. Tokyo Dome Hotel towers at a height of 155 meters above the city and includes 1,006 guest rooms, 11 restaurants & lounges, 18 small to large banquet rooms, a chapel and other wedding facilities, a business center, a child care room, and an outdoor pool (summer time only).
The magnificent, unobstructed view from guest rooms on the south side encompasses the Imperial Palace, Tokyo Tower and Tokyo bay. The northern guest rooms have a panoramic view of the Kanto plain, including Tokyo Dome City below.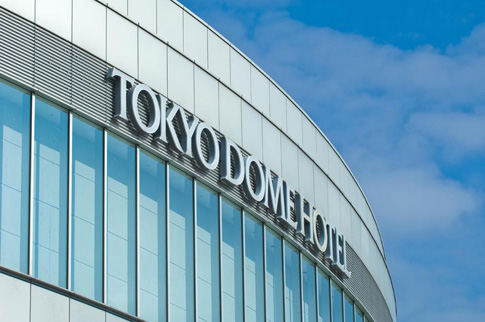 Hotel Profile
Guest Rooms:

1,006 on floors 9th to 41st (premium rooms on floors 39th to 41st)
Restaurants & Lounges:

11 venues: Japanese, Chinese, French and other restaurants and lounges.
Banquet Rooms:

Floors B1, 5th, 6th and 42nd: Grand Ballroom, Mid-size Banquet Rooms, Small Banquet Rooms, Salons, Sky Banquet Rooms
Business & Leisure Facilities:

Business Center, Outdoor Pool (summer time only), Hotel Shop, Florist, Child Care Room, Beauty Salon, Photo Studio, Massage Room
Wireless LAN, Wi-Fi service:

Free Wi-Fi connection is available in all guestrooms and lobby.
Tokyo Dome City Facilities:

Special rates are available for Hotel guests at selected facilities: Spa LaQua, The Fitness Club Tokyo Dome, Tokyo Dome City Attractions, The Tokyo Dome Bowling Center, etc.
Guest Parking Capacity:

283 spaces