NEARBY SIGHTSEEING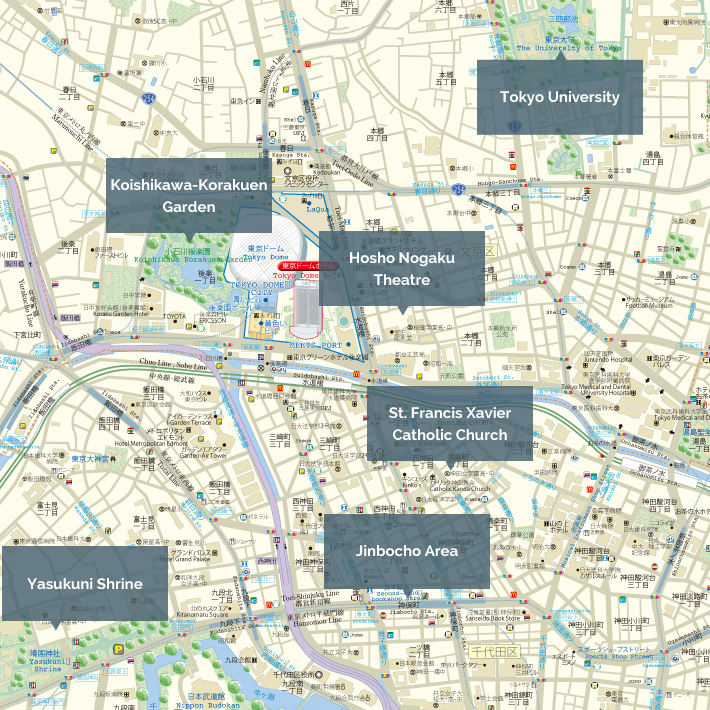 Enjoy wide-ranging entertainment, beautiful parks and gardens, trendy shopping areas, western churches, Japanese shrines and more — all within minutes of Tokyo Dome Hotel.
Koishikawa-Korakuen Garden
A Japanese garden of scenic beauty built in the Edo period. Designated a special historic site, it attracts many visitors in the spring who come to view the cherry blossoms.
Koishikawa Botanical Garden
Used by Tokyo University for botanical studies, research and teaching practice, it is also the oldest botanical garden in Japan.
Kagurazaka
This popular area was originally renowned for its Hanamachi (red-light district) and is now a trendy neighborhood full of shops and restaurants.
Jimbocho Area
One of the world's largest bookstore areas and a mecca for used books. It has many universities nearby and one of the largest concentrations of curry restaurants in Tokyo.
Kanda Church
Established in 1874, the church is a 10-minute walk from Suidobashi station. Mass (church service) is held in Japanese.
St. Ignatius Church
A Catholic church located near Yotsuya station. Mass is conducted in English.
Yasukuni Shrine
A Shinto shrine commemorating Japanese who died serving the country in various wars.
Tokyo University
The largest and most prestigious university in Japan and Asia.
Hosho Nogaku Theatre
A theater near Suidobashi station where classical Noh dramas are performed.
---